Bill Pay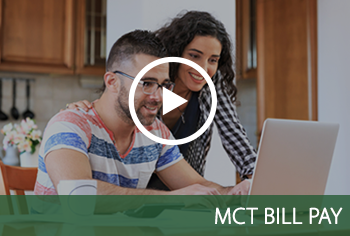 Enrollment in Online Banking is required before you can start using Bill Pay. Enroll in Mobile Banking and you can even use Bill Pay on your phone!
1) Select payee. 2) Enter amount. 3) Choose payment date. 4) Click. Your bills are now paid using MCT's Bill Pay! We couldn't make it any simpler if we tried.
Bill Pay eliminates all the hassle of this routine chore. No more running out of stamps or envelopes. No more forgetting a due date. No more late payments. Simply enter the people you pay on a regular basis one time into our system. Use Bill Pay for all of your household bills; even your babysitter, lawn care professional or exterminator. If we can't pay them electronically, we'll write the check at no additional cost to you!
Not only easy and convenient, but it keeps all of your transaction history in one convenient place.
And it gets even better. Use the Popmoney feature to pay anybody, anywhere using only their cell phone number or email address. Learn more about Popmoney.
Bill Pay is a FREE benefit with our Personal Checking, Personal Checking Plus and Select Checking Accounts!
Popmoney®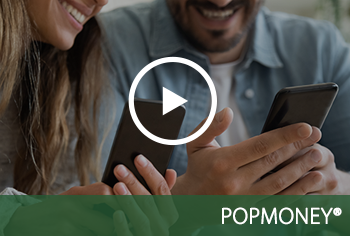 Your sister's birthday is TODAY! Jane needs my share of the shower gift cost NOW! Just like Matt to forget to mention the book he needs for a course this semester. How can I get him the money quickly?
Popmoney to the rescue! Send money to anybody, anywhere using only their email address or cell phone number. We'll do the rest.
You don't even need to exchange personal account information. If the recipient banks at one of the over 1,700 institutions using Popmoney, notification is sent and the funds are automatically deposited into their account. If not, instructions for a quick one-time enrollment process will be sent. The next time you want to pay that same person, they'll be set up to receive your payment automatically.
You can even customize the notification using one of our greeting card templates.
Popmoney – one more convenient service from the Neighbors You Know, Bankers You Trust!
*Please be advised that a small fee is assessed for each Popmoney transaction. 
eStatements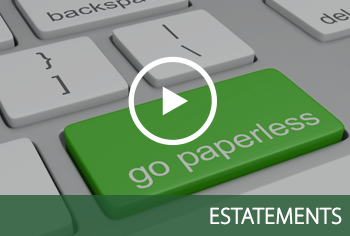 When was the last time you dug through your files in search of information on an old bank statement? Most likely the answer is never.
And if you did, you could have well been thinking how much easier it would have been to have those statements somewhere easier to search. Like online.
We thought so, too. Receiving your monthly account statement electronically makes organizing your financial information safe and easy.
You'll receive an email alert when your eStatement is available for the previous cycle. Simply login to retrieve it at your convenience. This assures that you, and ONLY you, have access to your account history. No more worries about mailbox thieves while you're at work or snooping neighbors sifting through your mail.
The paper clutter on your dining room table disappears. Plus you save a few trees in the process. Check out our FAQ if you still have some questions about eStatements.
Why wait? Enroll in eStatements today through MCT's Online Banking.