Mobile Wallet
Your MCT Debit card is ready for mobile payments!
Safe, Secure & On-The-Go Convenience:
Mobile Wallets replace your actual card number with a unique digital card number, which means businesses do not see or store your full card number.
Works with MCT Personal & Business Debit Cards, anywhere you see these symbols:
All MCT Debit Card transactions, including those used in a Mobile Wallet, are monitored by our 24/7 risk and fraud detection systems.
You can quickly check out using the devices you carry every day.

Apple Pay: Paying is as simple as selecting Apple Pay at checkout and confirming your identity using Face ID or Touch ID.
Google Pay: Confirm your identity (with a PIN, pattern lock, fingerprint or iris scan) on your device and tap to pay at participating businesses.
Video Tutorial: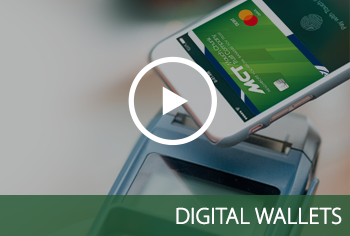 Setup Instructions & Device Compatibility:
For security reasons, we may need you to provide additional verification to activate your MCT Debit card with these Mobile Wallet services. If necessary, the mobile wallet app will tell you if you need to verify your card by calling MCT at 877-325-2265 during regular business hours. (Mon-Fri: 8 am – 6 pm, Sat: 8 am – 1 pm ET)
Your mobile carrier's message and data rates may apply.
Only select Apple devices are eligible to enable Face ID. If you have family members who look like you, we recommend using a passcode instead of Face ID to sign on. Apple Pay works with iPhone 6 and later in stores, apps, and websites in Safari; with Apple Watch in stores and apps (requires iPhone 6 or later); with iPad Pro, iPad (5th generation), iPad Air 2, and iPad mini 3 and later in apps and websites in Safari; and with Mac (2012 or later) in Safari with an Apple Pay-enabled iPhone or Apple Watch. For a list of compatible Apple Pay devices, see Apple Pay Support.
Certain devices are eligible to enable fingerprint sign-on. If you store multiple fingerprints on your device, including those of additional persons, those persons will also be able to access your MCT Mobile App via fingerprint when fingerprint is enabled.
When attempting to add your MCT Debit card to Google Pay, your card may be added to your Google Payments account to be used on other Google properties. This could occur even if the process of adding your card to Google Pay is not successful. If you have questions regarding this or Google Pay, visit Google Pay Support.
Apple, the Apple logo, Apple Pay, Apple Watch, Face ID, iPad, iPhone, iTunes, Mac, Safari, and Touch ID are trademarks of Apple Inc., registered in the U.S. and other countries. iPad Pro is a trademark of Apple Inc.
Android, Chrome, Google Pay, Google Play, and the Google Logo are trademarks of Google LLC.